Employment Opportunities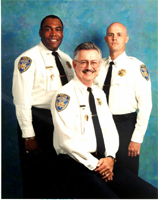 While previous work experience is required for our managerial and supervisory positions, specific security-related education or experience are not always required for our Security Officer jobs. ELITE Universal Security hires people on the basis of their personal characteristics: Dependability, Honesty and Responsibility. The people we hire have excellent communication skills and enjoy working with people.
Regional Manager

Director / Supervisor

Assistant Director

Security Officer
What's In It For You?

Want To Apply?

ELITE Universal Security Regional Managers are the entrepreneurial charges of our branch offices. Our Regional Managers need a combination of skills to sell security services to every type of American business. ELITE Universal Security personnel must maintain the highest standards of quality. Strong business management skills are required to run a regional operation while maintaining P/L responsibility in the ELITE corporate structure. Depending on the size of Regional office, a Regional Manager may have a staff of 15 - 30 people. Job announcements detail specific job requirements. Some of the major responsibilities include:
Administrative staff development
Building strong client relationships
Reviewing job sites for overall security awareness and safety compliance
Setting and managing financial goals for region
Reviewing proper contract compliance
Ensuring all local, state and federal compliance
Interview and assist in placement of security officers in special assignments
Write site orders and procedures for security officers and construct knowledge tests
Review and survey client locations for security and safety issues
Develop financial management review of accounts including reviewing overtime and client invoices
Negotiating with clients for pay and billing rate increases
A ELITE Security Regional Manager is the single point-of-contact for the ELITE customer. Every client, regardless of size, has one contact for all matters pertaining to security service. Beyond regular supervision, a Regional Manager provides total customer service through personal visits with clients that are scheduled on a regular basis. A "customer service" attitude and workforce supervision experience are necessary skills. Regional managers routinely provide the following support to the branch and client.



ELITE Universal Security Directors / Supervisors are the center of on-site operations. Strong interpersonal relations skills, one-on-one and phone etiquette skills are paramount for this fast-paced position. Directors / Supervisors must have superior time management skills and an ability to think ahead in planning future security work. Most importantly, Directors / Supervisors uphold the ELITE Universal Security highest standards. Directors / Supervisor's place new employees on their first assignment, assign veteran security officers to additional training and to new posts to keep the branch workforce vital. ( This helps to prevent open posts and provides for continuity through advance and lateral training on multiple job site / postings ).
ELITE Universal Security Directors / Supervisors have many roles in an organization depending on its size. When hiring supervisors and guards, they ensure ELITE Universal Security procedures of recruiting, interviewing and testing are maintained to the highest standards. Directors / Supervisors must be extremely detailed in interviewing candidates and reviewing applications for complete information. They must review standard background check information. Strong people skills and working in a team environment including operations, scheduling and field supervision are necessary for hiring officers and placing them in the best positions. Administrative duties require many business office skills such as PC data entry, managing branch files, employment records and adhering to all local, state, and federal employment laws and regulations. Directors / Supervisors have responsibility to conduct new employee orientation and training classes. Some of the duties include:
Reviewing applications
Scheduling interview sessions
Screening candidates for placement
Ensure all state/local officer licenses and training records are current
Maintain affirmative action statistics
Ensure high utilization of existing workforce
Timely and accurate data entry for payroll sheets and supplemental information
Updating the master listing of all posts and employees
Coordinate with Assistant Directors / Supervisors for all new security coverage
Review Daily Activity Report (DAR) entries on all logs and reports
Completing Employee Evaluation Worksheets for Pay Raises and/or Promotions
Training and recruiting guards for Supervisor / Director positions
Ensuring Schedules are correct and delivered on time
Out working all posts eighty percent of the time, Assistant Directors visit and learn all security posts. Assistant Directors set the standards for appearance at all locations through routine site inspections around the clock. They must present proven supervision skills and have abilities to counsel and correct deficiencies in the workplace. Assistant Directors test Security Officers on post knowledge, safety awareness and driving duties where they are required. Assistant Directors represent the office and the Security Officers under them, whether starting new posts on weekends or responding to emergencies late at night. They are managers in the field and must have the skill to make quick and accurate decisions. Assistant Directors routinely provide the following support to the branch office and client:
Set and uphold standards of appearance
Measure quality standards using existing measurement checklists
Review Security Officer Logs and Daily Activity Reports (DAR's) and files for accurate and legible information
Inspect job sites for personnel security and safety awareness
Reviewing applications
Scheduling interview sessions
Screening candidates for placement
Ensure all Officer licenses are current (State/Local)
Maintain affirmative action statistics
Security Officers deliver a high quality security service that ELITE Universal Security is known for across the country. You can expect a wide variety of duties during daily tasks and must be able to relate effectively with people. Some officers often work independently and must be able to follow all Site Orders as well as the orders by ELITE Universal Security supervisors. High uniform appearance standards and neatness are required. Previous security experience is not always required. We provide classroom basic training that is the beginning of an ongoing program providing the latest in professional security officer training. In every job, professional demeanor and effective face to face communication are essential. Each office may have other requirements, but the general requirements for ELITE Universal Security Officers include:
Outstanding Customer Service Attitude
Able to comprehend Site Orders and other written instructions at all sites
Successful completion and passing of our standard tests
Demonstrate self-discipline and responsibility
Cleary communicate orally face to face or by radio and telephone
Outstanding uniform appearance
ELITE Universal Security is a recognized leader in the security industry. We are known as the quality service provider. You will work in an environment surrounded by professional security specialists, managers and supervisors whose primary goal is customer satisfaction.
ELITE Universal Security will provide you with a competitive salary and benefits package which may include paid vacations, health insurance, a retirement plan, flexible schedules, uniforms, assistance with state licensing requirements, and training.
In addition, our employees are confident that problems will be resolved. When problems occur, we have a program that is designed to address our employees' concerns in the quickest possible manner and at the lowest possible level. ELITE Universal Security's commitment is in valuing our most important asset -- our people.

In order to do anything with either the downloadable or Online Employment Application, you will need the free Adobe Acrobat Reader installed on your computer, which you can obtain by clicking on the icon below. If you need more information about Adobe Acrobat .PDF Files, click here



You now have 2 ways you can apply!
You can apply by downloading our Employment Application, printing it and filling it out and sending it back to us along with a resume' by any of the following methods:
Fax - (530)741-9194
E-mail: admin@eliteuniversalsecurity.com
Postal Mail: ELITE Universal Security, Attn: Human Resources Manager, 5548 Feather River Blvd. Olivehurst, CA. 95901
OR you can open our Online Employment Application by simply clicking on it, fill it out and click "Submit!" at the bottom of the last page!
REMEMBER!
In order to do anything with either the downloadable or Online Employment Application, you will need the free Adobe Acrobat Reader installed on your computer, which you can obtain by clicking on the icon below. If you need more information about Adobe Acrobat .PDF Files, click here



In order to successfully send the Online Employment Application back to us, first make sure you have Adobe Acrobat or Adobe Acrobat Reader installed on your computer, then click on the link (A new browser window will open when you click on the link), fill it out while it is open in your browser window, and have an active Internet Connection at the time you click "Submit!" All highlighted areas on the application MUST be filled out or the form WILL NOT submit!
Please be sure to include your name, address, both work and home phone numbers, e-mail address and indicate your specific job interest and geographical location.